ROCKINGHAM COUNTY COURT HOUSE, HARRISONBURG, VA.
The back side of the postcard states:
HARRISONBURG, the "Friendly City, " is located in the world-famous Caverns district of the beautiful Shenandoah Valley. But a few miles east is the Shenandoah National Park with its lofty scenic highway, the Skyline Drive, while within equal distance west lies the George Washington National Forest, the largest preserve of virgin forest in the Southern Appalachians. Modern highways lead from everywhere to this Garden Spot of all Virginia.
Postcard Published by Asherville Post Card Co., Asheville, N.C.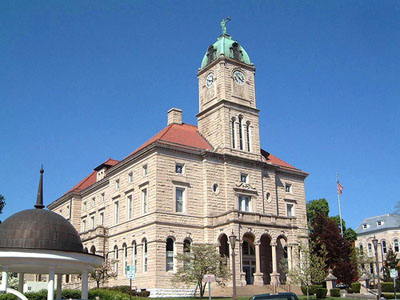 PHOTO OF
ROCKINGHAM COUNTY COURT HOUSE
Harrisonburg, VA
Found at Wikipedia.com

Rockingham County Court House, Harrisonburg, Va.

BACK SIDE of POSTCARD
From Mrs. Garber to Mrs. Louis Barkdoll
Posted June. 24, 1909