CINDER-MARY

NEWSPAPER EXCERPTS
To Start with, I will add an interesting fact to this website.
Later I will start putting things here that pertain to the History of Mexico.
I am a Mexican descendant of
Manuel & Juanita Becerra of Jalisco, Mexico.
Their son Genaro Becerra married Juanita Hernandez who was daughter of
Paul and Margaret Hernandez
In 1911, Genaro Becerra came to the United States on a Work Train for 5 cents.
With the help of a school teacher, he applied for his Naturalization Papers
and eventually became a Naturalized American (I have his card and paperwork)
He worked for the Railroad until he was blinded in a railroad accident.
His son married my mother in Illinois and viola!!
I was born 11 years later among 3 other children
I am trying to find relatives there or in the United States.
I know of only one whose name may have been Saturno Hernandez in Cook Co., Illinois or nearby.
I don't have any data for this site yet but will in the future
The reason I am putting this online now is because a very interesting fact that I found.
Did you know that the Cinderella story came from a story that was from
Folk Lore named CINDER-MARY (Cuento de Maria Ceniza)?
CLICK HERE to read the story.


Happy Hunting, Genealogy People!
As always,
Sharon Wick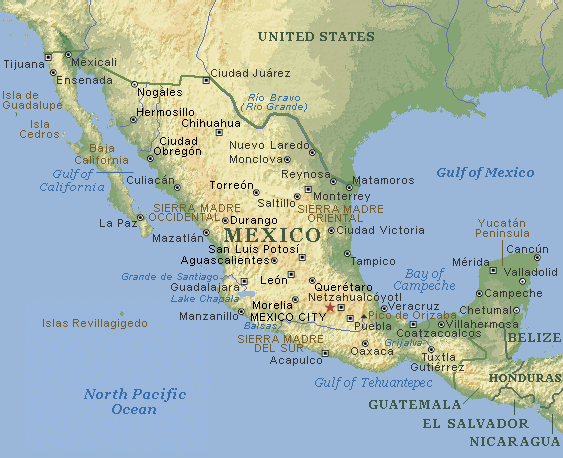 In Pre-Columbian Mesoamerica many cultures matured into advanced civilizations such as the Olmec, the Toltec, the Teotihuacan, the Maya and the Aztec before the first contact with Europeans. In 1521, Spain conquered and colonized the territory, which was administered as the viceroyalty of New Spain which would eventually become Mexico as the colony gained independence in 1821. The post-independence period was characterized by economic instability, territorial secession and civil wars, including foreign intervention, two empires and two long domestic dictatorships. The latter led to the Mexican Revolution in 1910, which culminated with the promulgation of the 1917 Constitution and the emergence of the country's current political system. Elections held in July 2000 marked the first time that an opposition party won the presidency from the Institutional Revolutionary Party (Spanish: Partido Revolucionario Institucional, PRI)
FLAG OF MEXICO: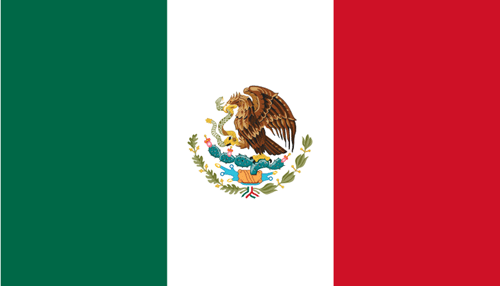 COAT OF ARMS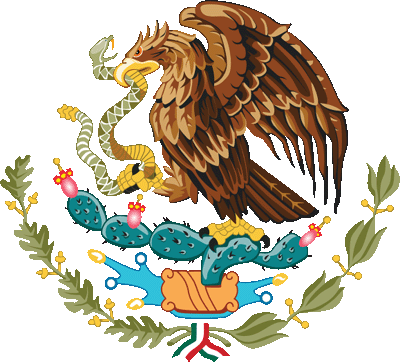 Provided by
GENEALOGY EXPRESS
Always Transcribing, Always Free
This website has been created by Sharon Wick - Copyright2010
My Yahoo Chat is here... If you wish to contact me, I will be available if it says "ONLINE"